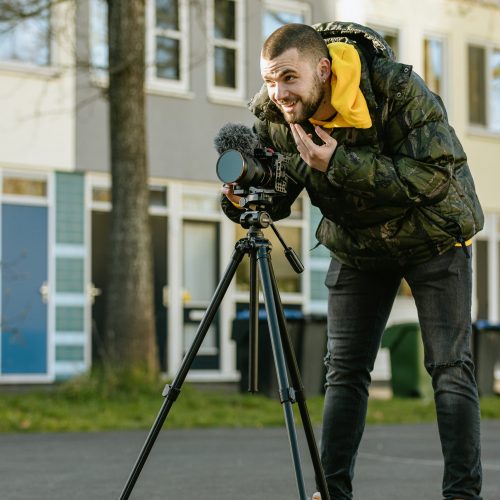 My Goal
How can I help you?
About me
My Goal
My goal is to turn your story your idea into a video that engages with your audience..
I also strive to be the best filmmaker I can be, that's why I try to learn new things every day, to experiment and make progress with each and every project I put out.
How can I help you?
What I do: commercials, promo videos, event aftermovies and music videos..
I create high quality content, tailor-made for your needs,values and the image of your brand .That way , I can offer you an efficient and , engaging method to reach your audience ,motivating them to make your desired action.
About me
My profession is filmkaing and has been for the past 5 years. I graduated Digital Media at Universitatea Babeș-Bolyai Cluj-Napoca. .More than that, I studied multiple courses on video production, video editing, color grading, scriptwriting, sound design, lighting, online marketing and storytelling.I'm always a work in progress, always trying to learn more and perfect my skills. Over time, I had the opportunity to work on different niches of filmmaking, making me a versatile videographer. I also consider myself an open minded person and I enjoy collaborating. For me, it's always a pleasure to bring my client's vision to life. I consider that beauty is in the details.
In case you don't need the full package (an entire production), I also offer the following services, individually:
Mă bucur foarte mult că am ales să lucrez cu Horea pe partea de video. Îl recomand cu cea mai mare încredere. Este un profesionist cu aparatură foarte bună și atenție foarte mare la detalii! Produsul final a fost WOW! 🙌
Toate deadline-urile au fost respectate, iar fiecare proiect nou la care am lucrat impreuna a fost peste asteptarile mele. E o persoana deschisa la orice tip de recomandare sau idee si intelege foarte bine nevoile brand-ului in functie de cerintele specificate.
Cele mai creative si pertinente idei de filmare pe care le-am intalnit pana acum. Am facut multe clipuri cu el si cu siguranta nu ne oprim aici. Recomand oricand 🔝
Am lucrat impreuna cu Horea de mai multe ori, la diferite proiecte. Video-urile livrate de el sunt geniale si ne-au adus rezultate bune la promovare. De fiecare data a livrat peste asteptari si la timp. Horea e persoana proactiva, conceptul video-urilor l-am facut impreuna si a venit cu idei creative. De asemenea, toata relatia noastra a decurs intr-un mod profesionist. Legat de editare, pot sa spun ca intelege foarte bine atat nevoile noastre, cat si scopul videoclipului si isi focuseaza atentia in directia respectiva. Este partenerul oficial de productie video al echipei Zamir
A adus un suflu inovativ și fresh în ceea ce înseamnă promovarea conferinței, a știut exact să evidențieze aspectele importante și micile detalii fără multă ghidare din partea noastră, a fost mereu punctual și acolo când am avut nevoie și a reușit să construiască cel mai bun și complex material de promovare pe care conferința l-a avut până acum.
Acum cateva luni am luat legatura cu Horea pentru a ma ajuta in a crea un video de promovare pentru serviciile mele de Personal Training si nu numai. Inca de la inceput rezonam cu stilul lui de a crea, de aceea l-am si ales, insa mi-a depasit asteptarile. A fost extrem de receptiv la ceea ce imi doream si a dat dovada multa rabdare si atentie la detalii. Video-ul a fost gata la timp si am comunicat constant pentru a fi siguri ca totul e asa cum ne dorim. Acum ca a trecut ceva vreme de la lansarea lui, pot spune ca m-a ajutat in a-mi crea o imagine distincta si a atrage cliente noi. Va recomand cu drag serviciile lui!